Download
200-125 exam
PDF Questions Answers
100-105 exam
210-260 exam
First-hand Cisco
300-075 exam
Certification Exam Questions
300-070 exam
200-105 exam
300-101 exam
300-115 exam
Pass CISCO
200-310 exam
- test questions
SY0-401 exam
400-101 exam
EX200 exam
NEW Cisco
300-207 exam
: Implementing
EX300 exam
400-051 exam
200-355 pdf
300-320 Exam Cisco
300-320 pdf
Test Questions PDF
3I0-012 pdf
070-463 pdf
300-206 pdf
640-916 pdf
Microsoft -
70-697 pdf
Assessment Test, 70-697 Training kits
210-451 pdf
1Y0-201 pdf
070-346 pdf
Cisco
640-911 pdf
Demo On Best Complete Exam Store
JN0-102 pdf
70-487 pdf
352-001 pdf
070-410 pdf
210-060 pdf
70-412 pdf
700-501 pdf
What is Microsoft's
70-417 pdf
?
Das-Studio
Das Authentic Pilates Art of Body Control Studio
Der ausgezeichnete Standard des Unterrichts kennzeichnet die Qualität des Studios. Jeder neue Kunde erhält eine persönliche Beratung und die hochqualifizierten Trainer garantieren ein Übungsprogramm, die auf die individuellen Ziele und Bedürfnisse der Kunden abgestimmt sind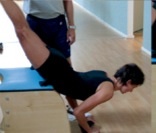 Andrea Erdesz (Studio Leiter)
war Mitglied als klassische Balletttänzerin an der Wiener Staatsoper
1991-1993 Burgtheater
1992-1998 choreographische Assistentin der Bayreuther Festspiele unter der Leitung von
Wolfgang Wagner.
Im Jahr 2000 entschied sie sich für die Ausbildung zur Trainerin für die Original Pilates Methode und absolvierte diese bei " Master Teacher" Romana Kryzanowska in New York.
2002 eröffnete sie ihr eigenes Authentic Pilates Art of Body Control Studio.